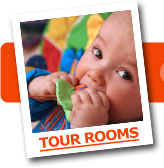 Take a photo tour of our offices and see for yourself the friendly and welcoming environment we've created for you angel.
We have two waiting rooms, one for well patients and one for sick patients.
We know that parents have to work and that children don't get sick at convient times. That is why we are open until 9pm.